"By having the courage to take the first step into rooms, circles, and conversations where you may feel like you don't belong, you also open the door for others to contribute their diverse perspectives, creating more meaningful, collaborative solutions for today and beyond." - Kim Vu (Vice President Bank of America)
WOMEN ARE THE KEY.
History has shown that enabling women as key change agents creates an environment for positive change to occur.
That's why our work to end hunger, starts with women, and seeks to end their subjugation, marginalisation and disempowerment.
Women are still responsible for meeting most of the basic needs of their family, yet are systematically denied the resources, information and freedom of action they need.
For example, systemic discrimination keeps many women from joining the workforce.
In India, despite being 48% of the population, women represent only 24% of the paid workforce.
This continues to create a cycle of social and economic dependency in which women are reliant on the earnings of men. But, when men lose their earning power — through disability, advanced age or unemployment — entire families lose access to basic resources. It's especially fragile in rural communities with little or no access to government services.
Inequality directly results in social insecurity.
The vast majority of the world's poor are women.
Two thrids of the world's illiterate are women.
HIV/AIDS is rapidly becoming a woman's disease - women comprise nearly 60 percent of people living with HIV/AIDS in Sub-Saharan Africa.
Millions of people eat two or three times a day, but a significant percentage of women eat only once. In fact, many women deny themselves that one meal to ensure that their children are fed.
There is now overwhelming evidence that shows that when women are supported and empowered, all of society benefits. Their families are healthier, more children go to school, productivity improves and incomes increase. In short, communities become more resilient. UN Women Annual Report 2016-2017
Break text
Balance and equality is Better.
In the business world, talent is one of the most essential factors for growth and competitiveness. To sustain and build economies we must ensure equal opportunity. When women and girls are not integrated—as both beneficiary and shaper—the global community loses out on skills, ideas and perspectives that are critical for addressing global challenges and harnessing new opportunities
Gender equality is the next sustainability frontier.
Break text
Facts about women and gender discrimination

HELP US CELEBRATE INTERNATIONAL WOMENS DAY.
The Hunger Project will stand with people around the world to recognise International Women's Day, a day that honors the achievements of women and girls everywhere and calls on our global community to take action for equality.
In New Zealand, we are celebrating and joining the #BalanceForBetter campiagn calling for a more balanced world.
We believe in creating change through possitive action and encourage all people to stand with us on the 8th March 2019 and share with us (and the world) how you celebrate #BalanceForBetter and take a stand for equality.
HOW CAN YOU PARTICIPATE?
It's easy!
In 1 minute (or less), answer this question in a selfie video "How do you celebrate balance?" And state that this International Women's Day, "I Stand For Equality"
Copy these hashtags

#IWD2019 #thinkequal #balanceforbetter #thehungerproject #THP #Istandforequality

#MorePowerfulTogether

#thehungerprojectnz
Be bold and post your video on Facebook, using the hashtags above and tag us @thehungerprojectnz and share it with your community. Also drop us an email at nz@thp.org so that we can be sure to share your post too!
And you're done!
SPACE FILLER
CELEBRATING BALANCE AND EQUALITY
#IWD2019 #ThinkEqual #BalanceforBetter #TheHungerProjectNZ #WomensEpowerment #IStandforEquality
MEET SOME OF OUR EMPOWERED WOMEN LEADERS.
Creating balance is better for all. Read how receiving women's empowerment training and accessing microfinance has created a better relationship for Rosina and her husband.
Empowering women as change agents is the key to ending hunger. Read how Coumba is inspiring women to find their voice.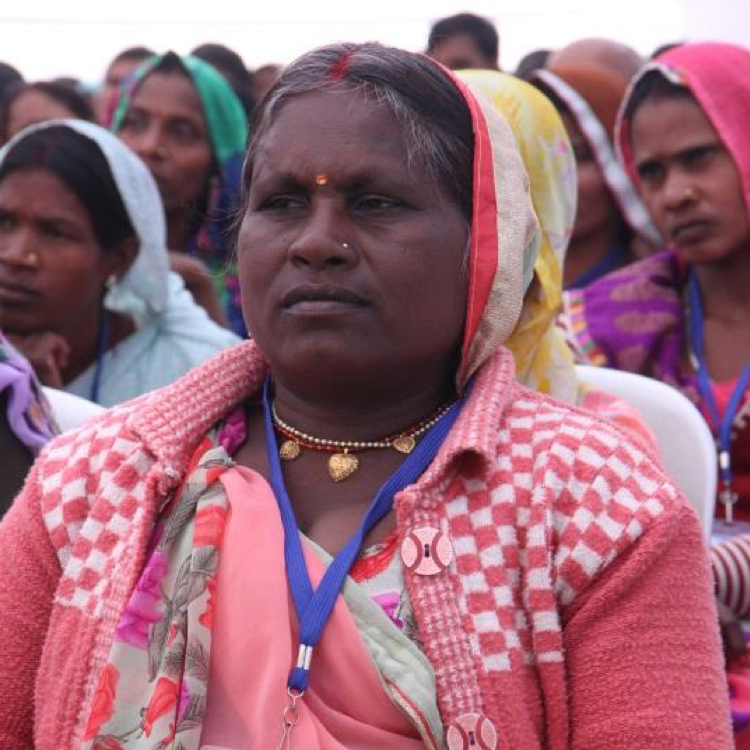 Empowered women leaders are leading the fight for access to clean water and sanitation and providing toilets to her entire community. Now her community enjoys better hygiene and health, as well as safer access to sanitation facilities.
SUPPORT WOMEN'S EMPOWERMENT
By investing in the work of The Hunger Project you are investing in the empowerment of women and men to create change.
FOLLOW US ON SOCIAL MEDIA