The finish line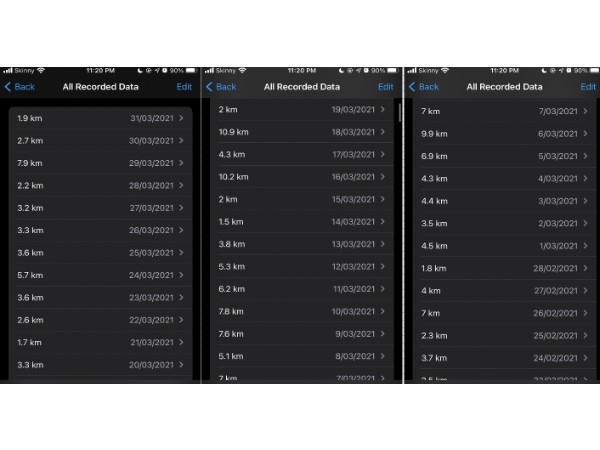 It's now the end of March and based on my apple watch data, I have walked 152 km during the month of March. BUT WAIT! Not all of these kilometres were done via going on deliberate intentional walks or runs. So dividing that by two is 72, and by 3 is 50. I didn't get to track all my data but I would estimate that it was 72 or 50 or hopefully 60 km! Walking every day was a liberating experience, unfortunately, I did break my streak by being extra busy and not being able to make time, and from just breaking it once, it became a force of habit... But, started up again these past few weeks which feels great. Thank you to Georgia for donating!!! I hope these steps make a difference, and I am inspired by all the strong woman out there who have to walk so far every day. We can do anything. Arohanui x - Elle  
Update 11/03/2021
Here's a lil update to show you guys that I am indeed keeping up with my 2km a day. On an 11 day streak right now! With our halfway mark of 60km achieved so far (due to some days going on longer walks than 2km).
Walking with intention and motivation to try and do something good has been the highlight of my day, every day. Not only do I feel better physically, but also mentally. 
Shout out to my teammate Kyrsta for asking me to join her on this project! Love that we keep each other accountable and motivate each other every day! 
One Step At A Time
We will be walking/running 2km every day for the whole of March to fundraise money for women who are not able to have immediate access to food, water and other amenities that most individuals in Third world countries have privileged access too. I hope that each step will allow us, as a global community, to get closer to the equalisation of having access to food and water every day. 
Help me Walk with Women - and end hunger!
I am 21 years old, a Kiwi gal from New Zealand and am currently studying a Bachelor of Science degree at Massey University, majoring in Zoology & minoring in Social Anthropology. My life goal is to feel that I have used my human life to be of aid to other beings, from animals to humans and to the earth itself! 
This is one of the thousands of inequalities in this world that needs to be addressed and helped. Although it doesn't feel like much, you never know how one step each, within a team of thousands of individuals, could change the lives of so many. We are inter-connected, and we must do what we can for others to live the healthy, happy life that we all aspire to have. 
So join me, and many others by walking,, running an event or donating for The Hunger Project! :) 
Arohanui x 
- Elle